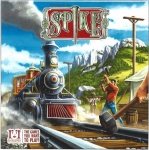 R&R Games plans to release two new games in October, just in time for the annual Spiel fair in Essen, Germany.
Spike
is a euro-style boardgame about building railroads in the early 1900s, while
Spellcaster
is a card game about dueling wizards. ICv2 was able to get some details from R&R President Frank DiLorenzo at last weekend's Gen Con.
In designer Stephen Glenn's
Spike
, two to four players operate railroad companies in the eastern United States, expanding their networks to pick up and deliver goods. Players must also invest in upgrades to their trains in order to keep them modernized.
Spike
will include more than 180 track pieces, miniature locomotives, and a "big map," according to DiLorenzo, who also stated that the retail price will be around $45.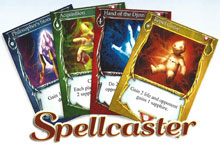 Spellcaster
pits two to four players in the role of wizards competing in a magical duel, using their spells to gather "Sorcery Sapphires" or outlast their rivals by draining their magical energy. The game includes sixty spell cards, and will have a retail price of $15.95.