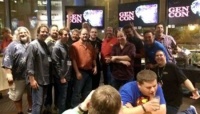 Calliope Games has teamed up with some the biggest names in game design for its new "Titan Series" of games, scheduled to release starting in 2015. ICv2 spoke with Calliope's Cassidy Werner at Gen Con to get the details.
Werner described the idea behind the Titan Series. "We're bringing designers that normally dedicate their talents to really in-depth Euro-style games to family gateway games," Werner said. "So we have names like Richard Garfield, Jordan Weisman, Rob Daviau, Eric Lang, and a whole bunch of others. We're going to be releasing nine games over three years, so a couple of the designers will be working in teams."
The team behind the Titan Series will include Rob Daviau, Michael Elliott, James Ernest, Matt Forbeck, Richard Garfield, Seth Johnson, Eric Lang, Mike Mulvihill, Paul Peterson, Mike Selinker, Jordan Weisman, and Zach Weisman.
The project will be funded through a Kickstarter campaign. "We're going to be launching a Kickstarter to fund this in early January," Werner said. "You can choose to back all nine, in which case you'll get a bigger discount, or you can back just one at the regular retail price. They'll be shipped out to backers when they're ready, starting around September 2015, and then available in retail stores after that."
Different games in the series are likely to have different price points, but Werner explained that "we're looking around $30 for all of the games, we want to keep them affordable."