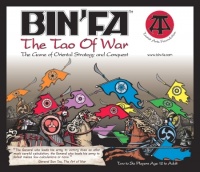 Ken Hodkinson has announced a new edition of the strategy war game
Bin'Fa--The Tao of War
, with plans to launch the game in March at the GAMA trade show (see "
2015 GAMA Trade Show
"). The game will be funded by a Kickstarter campaign in November.
The game was initially developed by Hodkinson in the late 1970s, based on Sun Tzu's
Art of War.
Avalon Hill published a version of the game,
Hexagony
, with development changes by Alan Moon. The game never caught on, and Avalon Hill relinquished the copyright in 1986. Hodkinson has continued to develop the game since then, releasing various versions over the years, including the
Seacoast Tube Edition
in 2000.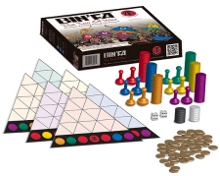 Players take the role of army generals in ancient China, out to capture and eliminate enemy forces. Generals must keep supply lines open to each of their army units, because if a unit is cut off on all sides by the enemy, they are forced to surrender. The new edition includes the addition of the General, Vortexes that allow player to move across the board in one move, and rule changes that govern the gathering of supplies. The redesign also allows the separation of the triangle board pieces from their original hexagon shape, so that the modular pieces can be combined in various ways, altering the terrain for each new game.
The game is for 2 -6 players, ages 12 and up, and plays in 20 minutes to 2 hours. MSRP is $37.95. The Kickstarter, which will launch this month, has a retailer backer level for six copies of the game at trade discount.