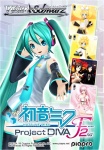 Bushiroad will release a new Hatsune Miku booster expansion for its Weiss Schwarz TCG. Hatsune Miku: Project DIVA F 2nd will release on February 6.

The first Project Diva expansion for the game proved popular (see "New 'Project Diva' Expansion"), and this new expansion is based on the recently released PlayStation 3 and PS Vita Game of the same name, which is the latest project starring Crypton Future Media's "cybercelebrity" Hatsune Miku (see "New Video Game Another Opportunity for 'Miku' Merch").

The Booster Pack includes new songs and modules, and the 116-card set includes 39 parallels. Each booster includes eight cards, with 20 boosters per display. Four rubber playmats are included in each carton. Three PR cards out of 12 types will be included in each display as well. The English Edition does not include gold/silver campaign coupons. With this set, English and Japanese cards may be played together in tournament formats (except in Japan and certain major tournament formats). Exclusive SP Gold Foil/ Hot Stamp signed cards from the Japanese voice actresses are randomly inserted in packs. This release can be combined with the previous expansion to create a completely new deck.

This set will follow the Nisekoi-False Love release in January (see "'Weiss Schwarz: Nisekoi--False Love'").