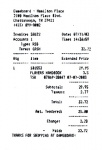 Gameboard is selling this year's hottest RPG releases, the three Dungeons & Dragons 3.5 hardcovers, well in advance of the street date of July 18th set by D&D publisher Wizards of the Coast. An actual receipt from the Gameboard retail store accompanies this article, and multiple sources have told ICv2 that Gameboard Distributors is also soliciting wholesale orders from retailers on the titles.
Gameboard Distributors, which includes distribution centers in Knoxville, Tennessee and Orlando, Florida as well as retail locations in both Tennessee and Florida (see 'Gameboard Owner Denies Knowing About Orlando Connection'), is not an authorized WotC distributor. Thus it is not immediately apparent where Gameboard acquired the D&D 3.5 volumes, though some industry figures speculated that the books might have come either from the U.K. or from the bookstore market. One Tennessee retailer who contacted ICv2 competes with a Gameboard retail store and his business has been directly affected. Although this particular retailer has been allowed to cut his order for the D&D 3.5 volumes by his distributor, he has lost much of the profit from what should be the most lucrative RPG release of the year in the hobby market.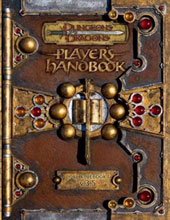 Michael Cox of Centurion Hobby Distributors told ICv2 that there is little that can be done in the short run since his copies of the new D&D releases are in transit at this time. Certainly WotC can do nothing to expedite the shipments, which are already underway. WotC could switch to an earlier release date, but would want to be sure that all the distributors in all the various channels had received their shipments in time to get them to retail locations by the new street date. Managing a simultaneous release across several channels of trade is a major logistical undertaking that is difficult to modify in mid-stream. Cox told ICv2 that Centurion 'believes a level playing field is a good thing for our retail partners, and will be holding to the release date unless instructed to do otherwise by WotC.'
Another game distributor contacted by ICv2 told us that retailers have been offered a chance to buy the new books from Gameboard with the sales line, '...before other distributors can get them to you.'

This game distributor was extremely upset by Gameboard's actions. 'More than the hurt from the loss of sales, though, is the loss of sales on other products as Gameboard gets preorders on other items due to cheating on this one,' he said.

This distributor also alleged that

Gameboard, in its role as a fulfillment house for several game manufacturers, employs similar tactics by selling products aggressively before shipping them to other distributors.