The ICv2 Awards are the on-line continuation of a tradition that began in Internal Correspondence, the print predecessor of ICv2, over a decade ago. These awards are given as a way of reflection on the events of the year and to draw some conclusions from them. They're based entirely on the business impact of events on retailers, as determined by the editorial staff of ICv2.com.
Game Company of the Year -- Wizards of the Coast
Wizards of the Coast receives our 2003 Game Company of the Year Award for its revitalization of the anchor properties in two of the four game categories we track, and for introducing a strong new entrant in a third, stimulating sales for retailers not only on its own products but on whole categories.
WotC celebrated the 10th anniversary of Magic: The Gathering, the game that defined the collectible card game category, by releasing the 8th Edition of the game with a redesigned card (see 'WotC Redesigns Magic the Gathering') at Gencon. It sold very well, as did expansions released before and after the new Edition.
WotC also stimulated sales in the roleplaying game category with the release of revisions to its 3rd Edition of Dungeons and Dragons. Although the RPG category in general had a tough year, D&D 3.5 was one of the few bright spots; without it the RPG scene would have been even more grim.
And WotC also re-entered the miniatures category with its release of the Dungeons and Dragons Collectible Miniatures Game, which sold over a million miniatures in the first month after release (see 'Over a Million D&D Miniatures Sold').
WotC had a few rough patches in 2003, litigating with Nintendo over the end of its Pokemon license, launching Neopets to tepid response, and pulling the plug on its retail operation. But the good far outweighs the bad, and we congratulate Wizards of the Coast on its great year in 2003.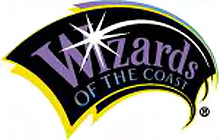 Game Product of the Year -- Magic: The Gathering
While Magic: The Gathering ran far behind Yu-Gi-Oh! in sales, the fact that this ten year old, category-defining game could still generate the kind of excitement, sales, and consistent profitability that Magic did qualifies it for our 2003 Game Product of the Year Award. After starting the year strong, sales improved in the second half behind the release of 8th Edition. 'As strong as ever,' 'Huge,' and 'I'm surprised at how strong it is,' were three comments typical of many we received from retailers and distributors about Magic this year.
For Part 2 of our ICv2 Game Awards, see 'ICv2 2003 Game Awards, Part 2.'
And for last year's ICv2 Game Awards, see 'ICv2 2002 Game Awards, Part 1,' and 'ICv2 2002 Game Awards, Part 2.'