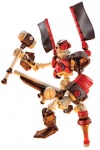 Hasbro is set to release a new action figure game based on a new line of 5' figures with totally interchangeable parts. The XEVOZ Action Figures will be available in a number of formats including the Basic Battle Kit ($6.99 msrp), which contain one unassembled figure and additional parts for customization as well as game pieces and rules, and in Master Modifier Assortments ($9.99), which include powerful game pieces and parts, and in Battle Attack 2-Packs, which include two unassembled figures and a Battle Terrain game board.
Thanks to an interchangeable ball and socket system, every poseable XEVOZ figure can be configured into millions of different combinations, each with its own special powers and abilities. After building their unique XEVOZ warrior, players can take on their friends using the Battle Helix, a re-configurable die, in a basic two-player game or scale up to complex levels of strategic play with numerous players and figures competing.
With XEVOZ, Hasbro is attempting to create a successful action figure game, something that has not been accomplished so far in spite of attempts by WizKids (Shadowrun), Mark Rein-Hagen (Z-G) and others.

Hasbro's XEVOZ game resembles the Z-G action figure game (but without the card component), the interchangeable Stickfas figures (but with a game component), and Lego's Bionicles (with an elaborate backstory).
In the world of XEVOZ, the Xevolvers (as the figures are known) are the last hope of a planet where genetic manipulation has gotten out of hand in the service of an evil ruler (Genok).

The original Xevolvers were able to imprison Genok in an impenetrable tomb, but now he has escaped and it's up to surviving Xevolvers to stop his evil machinations.