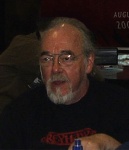 Gary Gygax, the co-creator of the original Dungeons & Dragons roleplaying game, has come to an agreement with Troll Lord Games, LLC to publish a series of hardcover fantasy roleplaying sourcebooks under the d20 system. Wizards of the Coast, the current owner of the D&D franchise, has revolutionized the roleplaying world by allowing other companies to create games using the sleek d20 rules (see 'Sovereign Stone to Adopt d20 Rules' and 'White Wolf to Publish Fiery Dragon d20 Games'). The result has been a widespread outburst of creativity that has triggered a mini-boom in RPG sales, and new magazines to cover the phenomenon (see 'Corsair to Publish d20 Magazine'). Whether this boom will continue or fizzle out depends to a large extent on the quality of the d20 adventures, and the addition of high-powered talent like Gygax to the roster of those creating new d20 adventures can only help sustain the cause.
The first volume from Gygax is tentatively called The Canting Crew, a definitive guide to the underworld in a quasi-medieval city. As Gygax remarked, 'Who doesn't love a bunch of colorful criminals rampaging around in their world?' Using the d20 rules allows game creators to ignore the mechanics of the game and concentrate on creating a rich tapestry of magical environments and unique characters. Using the d20 system is just fine with Gygax, 'The new Third Edition core material needs no input from me..., what I am interested in is supplying information to gamers that will assist them in creating compelling environments for roleplay, enable the delivery of rich settings and special character development too, and thus add to the fun and enjoyment of the campaign.'
The Canting Crew
is tentatively scheduled for a November 1 release.

It will contain rules and ideas that players can incorporate into their roguish characters, including prestige classes, feats, skills, equipment, and a comprehensive guide to cant and signing.

Dungeon Masters will discover invaluable source material regarding the criminal underclass and the medieval fantasy city they inhabit. Trollords has not yet decided on a cover price for the 175+ page hardcover.