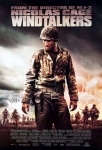 Dragon Models, Ltd., one of the leading manufacturers of realistic military models for the collector's market, has announced an agreement with MGM to create 1/6th scale figures based on John Woo's epic World War II motion picture, Windtalkers, which is set to bow in theaters on November 9. Dragon Models will also create smaller 1/18th scale figures as well as 3' minis. Dragon Models has produced a wide variety of hyper-realistic figures from many eras of combat including, of course, the ever-popular Second World War.
Windtalkers,
which stars Nicholas Cage and Christian Slater, tells the story of the Navajo codetalkers, who were used for battlefield communication in the war in the Pacific against the Japanese.

The Navajo language is very difficult and no Japanese knew it, so U.S. marines were able to communicate freely by radio and the Japanese never did figure out the messages that the Navajo marines encoded simply by translating them into their native language.

There is considerably irony in this story since the U.S. government, which ended up benefiting mightily from the Navajo language, had done much to destroy the rich tradition of Native American languages.

There is also considerable suspense involved in the story since the officers and non-coms who accompanied the Navajo codetalkers could no more allow the Navajo to fall into Japanese hands than they could a code machine or code book.

With the action expertise of John Woo and a great true story to tell, Windtalkers just might be one of the best of the recent bumper crop of World War II films.

It is definitely the kind of film that should appeal to military history buffs and collectors of the highly realistic figures that Dragon Models, Ltd. creates.

This license looks like a good fit, and stores that do carry historical military figures should consider adding Dragon Models' Windtalker figures when they become available in the fall.