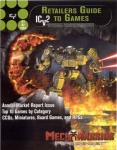 ICv2 has released its 2004 market reports in the ICv2 Retailers Guide to Games #7, and the over-all market for CCGs, miniature games, board and family games, and roleplaying games was weak in 2004. Some segments were down 25-50%, but the damage was mitigated by the fact that the worst hit segment was the smallest part of the smallest category.
ICv2 estimated that the over-all U.S. and Canada market for trading card games was around $800 million at retail in 2004, down a bit from the $850 million number in 2003.
Miniature games were estimated to be roughly stable at around $200 million, with some piece declines offset by higher retail prices.
Board, family, and card games were up around 5% last year, with the hobbyist board games that sell primarily in game and book stores up 10% or more.
Sales of roleplaying games were down 15-20% in 2004, to around $25 million retail. Wizards of the Coast and White Wolf bucked the trend; almost everything else was down a lot.
ICv2 also released its top ten lists in all four game categories based on sales over the prior three months; here are the top five in each:
Top Five TCG Properties
1. Yu-Gi-Oh!
2. Magic: The Gathering
3. Versus
4. Pokemon
5. InuYasha
Top Five Miniature Games
1. Warhammer 40,000
2. Star Wars Miniature Game
3. HeroClix
4. Dungeons and Dragons Miniatures
5. Pirates of the Spanish Main
Top Five Board, Family, and Card Games
1. Settlers of Catan
2. Carcassonne
3. Days of Wonder
4. Apples to Apples
5. Fantasy Flight Games
Top Five Roleplaying Games
1. Dungeons and Dragons
2. World of Darkness
3. GURPs
4. Mongoose
5. Mutants and Masterminds
For more on how to get the ICv2 Retailers Guide to Games #7, with more on the 2004 game market, the full top ten lists, and more, see 'ICv2 Releases Retailers Guide to Games #7.'