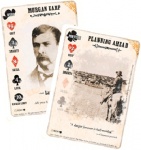 WizKids, the company that created the Collectible Miniatures Game, which some have characterized as a three-dimensional adaptation of Collectible Card Games such as Magic the Gathering, has announced its first CCG, High Stakes Drifter, which is slated to debut in November. Designed by Matt Robinson, WizKids' head of game design, High Stakes Drifter is a betting and bluffing game, which can be played by just two players, but which becomes increasingly enjoyable as more players join the game. The CCG combines elements of traditional saloon games with the customizable elements of the typical collectible card game.
According to WizKids' spokesman Jason Mical, High Stakes Drifter is 'easier to learn than most CCGs.' The game features a diverse group of characters including hustlers, gamblers, lawmen, first nations and outlaws, who are rated in terms of skills, smarts and luck. The player with the best cards may not always win in this game, which allows for the best bettors and bluffers to walk away with the pot.
The visual look of High Stakes Drifter is authentic Old West thanks to the use of vintage sepia-toned photographs from the Wild West, featuring the likes of Billy the Kid and Wyatt Earp. Special Kicker Chips, which are included in every pack can have positive or negative effects on game play.
High Stakes Drifter utilizes the standard CCG format of Starter Sets (MSRP $9.99) and Booster Packs (MSRP $2.99). Everything two people need to play the game comes in one Starter Set, including a predetermined deck and Kicker Chips. Players expand their collections through randomly inserted cards and chips available in Booster Packs. The Starter Set includes a deck of 54 cards, including 2 jokers, plus 2 Kicker Chips, a rules sheet and 3 sets of marker cards. Each Booster Pack contains nine cards and one kicker chip.