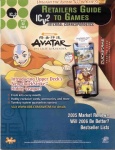 Last year was a tough go for most game retailers with three of the four categories we track down substantially from 2004. ICv2 estimates that dollars in the hobby channel declined about 15% in 2005, hardly a heartening performance, but the 2005 drop-off was significantly less than 2004's decline of 20%, and a strong 2005 holiday season kept the year from becoming a total disaster. One distributor told ICv2, 'Over-all, I think it was the holiday season we needed to see for a lot of stores.' The lone bright spot in the games market was the Family/Board Game category, which posted a nearly 18% gain for the year.
Other categories were not so fortunate -- collectible card games declined substantially and from the head down as the categories aging top performers, Yu-Gi-Oh! and Magic, both dropped and new entries in the highly competitive market failed to get much traction.
There were some bright spots. Magic's second-half release, Ravnica, performed much better than its predecessor, the Kamigawa block; and Pokemon and Comic Images' CCG version of the Energizer Bunny, WWE, maintained some momentum; but ICv2 now estimates that the overall CCG market in the U.S. is around $450-$500 million versus our perhaps too generous estimate of $800 million in 2004.
Sales were also down for miniature games, with drops in sales of both CMGs and un-painted miniatures. While there were some success stories such as Privateer's War Machine, ICv2 estimates that the category declined about 25% in 2005.
Role-playing games are the smallest category we cover and RPGs continued a pattern of steady decline thanks in large part to the success of online role-playing games such as World of Warcraft and City of Heroes. The one sector that prospered in 2005 was the Board Game and Family Game category, which was aided by a very strong fourth quarter performance.
In the Retailers Guide to Games #9, ICv2 also released its rankings of the top ten games in each category. Here are the top five in each:
Top Five CCG Properties
1. Yu-Gi-Oh!
2. Magic: The Gathering
3. Pokemon
4. Versus
5. Legend of the Five Rings
Top Five Miniature Game Properties
1. Pirates of the Spanish Main
2. HeroClix
3. Star Wars CMG
4. Dungeons & Dragons
5. MechWarrior
Top Five Board Games
1. Settlers of Catan
2. Carcassonne
3. Ticket to Ride
4. Axis and Allies
5. World of Warcraft
Top Five RPG Lines
1. Dungeons & Dragons
2. World of Darkness
3. Warhammer Fantasy Roleplaying
4. Green Ronin
5. Mongoose
For info on how to get your copy of the ICv2 Retailers Guide to Games #10, which contains much more market information see 'ICv2 Releases Retailers Guide to Games #10.'