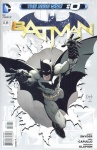 The penultimate issue of Marvel's
Avengers vs. X-Men
took the top spot on the list of bestselling comics sold in the direct market in North America in September through Diamond Comic Distributors, but from then on it was all DC as the nation's oldest comic book publisher took 11 out of the top 12 spots with "Zero" issues of its ongoing "New 52" titles. DC's charge, which was reflected in its record-setting marketshare victory (see "
Comics Dip in September
"), was led by Scott Snyder's
Batman,
now firmly established as DC's top title, which rose from 126,249 for issue #12 in August to 156,561 for issue #0 in September. Although comics were down slightly in September, the performance of the "zero issues" kept it a close year-over-year race with last September's historic debut of the "New 52."
Of the 22 continuing "New 52" titles that made the "Top 50" in September, 21 posted gains, with just one title Batman Incorporated showing a small drop in circulation. Thanks to the success of "zero issue" month titles in the "Top 25" were evenly split with 12 titles showing circulation gains and 12 posting losses. Again DC's New 52 "zero issues" predominated by supplying 11 of the 12 titles that gained circulation. The one fly in the ointment for DC could be the rather lackluster performances of the new titles that are joining the "New 52" led by Talon #0, the Court of Owls spin-off, which barely made it into the "Top 25" at number 23. The other newcomers fared even worse, Phantom Stranger #0 bowed at #49 with 36.093 followed by Team 7 #0 (at #67) with 31,053, and Sword of Sorcery #0 (at #79) with 26,959.
The only non-DC title in the top 25 to post a sales increase was Image's The Walking Dead, which moved into the "Top 25" at #24 with issue #102, which posted an increase of over 2,000 copies to bring its September total to 53,337. Everyone in the book trade and the direct market knows that The Walking Dead TV show has sold a huge number of graphic novels, but it should also be pointed out that in October of 2010 when the AMC TV series debuted, The Walking Dead #78 sold, according to ICv2, 27,947 copies. This illustrates two things, one that Kirkman and company have shipped 24 issues of the comic over the past two years, and that the circulation of The Walking Dead monthly comic has nearly doubled.
On the graphic novel side Marvel's Thanos Quest #1 led with over 13,000, but there is some question whether this reprint of two annual-size comics is really a graphic novel, even though Diamond has designated it as such. At 104 pages, it is long enough, but the presentation is pure comic book. Thanos Quest is comic book size and staple bound like a comic book pamphlet rather than squarebound like the traditional graphic novel.
Well back in second place on the graphic novels chart is the Judas Coin hardcover, an original graphic novel by Walter Simonson that follows the eponymous bit of currency down through the centuries. The Judas Coin finished just a few copies ahead of The Walking Dead Hardcover Vol. 8, which collects two volumes of the previously published trade paperbacks into a sturdy hardbound volume.
Fewer than 75 copies separates the #2 book on the list (Judas Coin) from the fourth title, Dark Horse Comic's Avatar: The Last Airbender—The Promise Vol.3. Dark Horse's Avatar series is a big hit in the bookstore market where the first two volumes have been a fixture on the BookScan list all year long.
DC Comics had nine titles in the "Top 25" on the graphic novel side followed by Image and Marvel with 4 each.
The top manga title was Viz Media's Naruto Vol. 58, which came in at #17 followed by Kodansha's Sailor Moon Vol.7 at #22.
Here are ICv2's estimates of the direct market North American sales of the "Top 25" comics sold through Diamond Comic Distributors in September:
167,327 Avengers Vs. X-Men #11
156,601 Batman #0
125,868 Justice League #0
89,909 Green Lantern #0
84,063 Detective Comics #0
78,626 Action Comics #0
72,919 Batman: The Dark Knight #0
69,146 Batman and Robin #0
69,111 Earth 2 #0
66,112 Batman Incorporated #0
61,227 Aquaman #0
60,493 Superman #0
59,794 Uncanny X-Men #18
59,772 Amazing Spider-Man #693
58,609 Avengers #30
58,461 Amazing Spider-Man #694
56,890 Flash #0
56,742 New Avengers #30
55,857 Wolverine & X-Men #16
55,114 Before Watchmen: Comedian #3
54,768 Wolverine & X-Men #17
53,722 Talon #0 (New)
53,464 Before Watchmen: Silk Spectre #3
53,337 The Walking Dead #102
53,270
Before Watchmen: Nite Owl
#3
For an analysis of the dollar trends in September, see "
Comics Dip in September
."