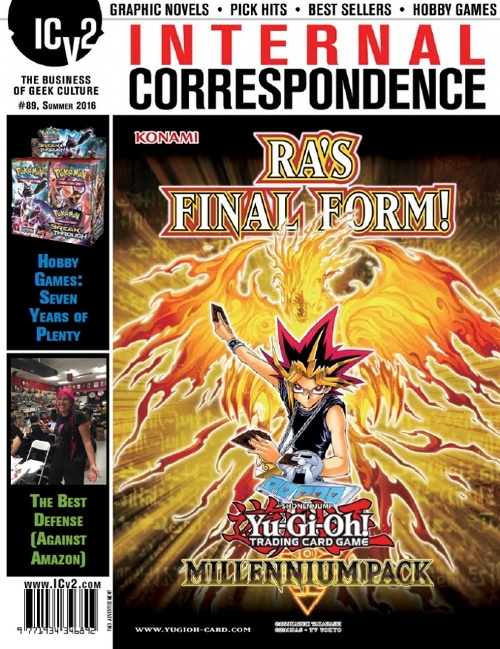 The year that just ended, 2015, was a seventh consecutive growth year in the hobby games business, according to retailers, distributors, and publishers interviewed by ICv2 as sources for a report in the latest issue of
ICv2's Internal Correspondence
, #89.
With a growth rate of around 20% (rounded up to the nearest 5%), there were widespread areas of strength. In collectible games, the largest category,
Magic: The Gathering
continued to grow, and
Pokemon
grew faster, especially in the mass market, with other collectible games also doing well.
In miniatures, the second-largest category, Fantasy Flight Games'
Star Wars
games drove dollars upward with broader distribution, better supply, and an incredible surge in consumer interest and demand.
Better holiday availability of key board games in 2015, especially on those from Fantasy Flight Games and Z-Man Games, helped support growth in the category through its most important season. On the flip side of availability, sufficient supply helped contribute to widespread heavy discounting of board games by Amazon third party sellers, which is focusing attention on manufacturer policies designed to prevent channel leak from brick and mortar to online.
Card games grew even faster than board games, albeit from a smaller base, and roleplaying games, with a strong year from category leader
Dungeons & Dragons,
also had a good year.
The holiday season had some unusual patterns, weaker than usual in November and early December and then a flurry of sales in the second half of December. Online sales may have influenced that unusual seasonality, with customers flocking to stores when online shopping could no longer get their orders to them in time.
Here are links to ICv2's charts of the Top Hobby Games across five categories for Fall (September-December 2015), which first appeared in
Internal Correspondence
#89:
Top Collectible Games--Fall 2015
Top 10 Hobby Channel Board Games--Fall 2015
Top 10 Hobby Channel Card and Dice Games--Fall 2015
Top 5 Non-Collectible Miniature Games--Fall 2015
Top 5 Roleplaying Games--Fall 2015
For info on how to get your copy of
ICv2's Internal Correspondence
#89, with the full market reports, Pick Hits of the best upcoming releases, and reviews, see "
ICv2 Releases 'Internal Correspondence' #89
."