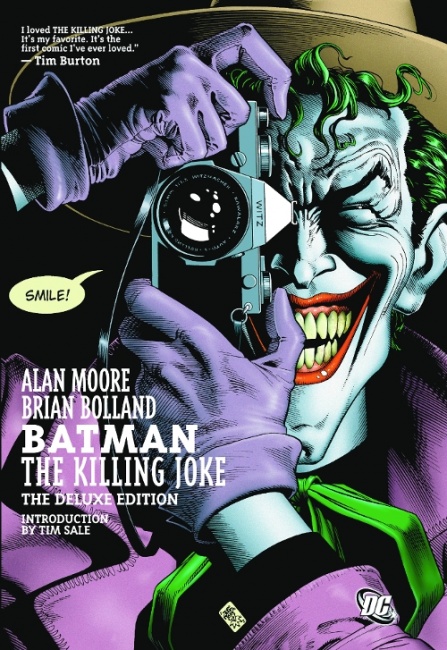 Titles related to
Suicide Squad
and politics made up 40% of the Top 20 Adult Fiction Graphic Novel chart provided exclusively to ICv2 by Nielsen BookScan for August, reflecting the zeitgeist of the late summer this election year.
Books tied to politics made up four of the top five titles in August, although only one is directly tied to this year's U.S. election. The newest
March,
Vol. 3, came in at #2, and the other two volumes were #3 and #5. The series has been building momentum with each new volume, helped by regular release on an annual schedule. And 76-year-old Congressman John Lewis, who co-wrote this story of his civil rights activism as a young man, has been indefatigable in promoting the book, from cosplaying himself at San Diego Comic-Con (see "
San Diego Comic-Con Photos, Part 9
") to crowdsurfing on
The Late Show
with Stephen Colbert
this week.
The graphic novel adaptation of
Clinton Cash,
the bestselling book by Brietbart Senior Editor-at-Large Peter Schweizer, in turn based on a documentary of the same name was the #4 title in August, with a quick sell-out perhaps keeping the title from scoring even higher (see "
Trump Beheaded, Clinton Excoriated
").
Batman: The Killing Joke
was back up to #1, behind not only its association with
Suicide Squad
, which opened big the first week of August, but also the August 2 home video release of the OVA based on the graphic novel. And two Harley Quinn volumes and Suicide Squad Vol. 1 rounded out the four titles tied to the film in the Top 20.
With seven titles from DC and its Vertigo imprint, August was the best month for the publisher that once dominated graphic novel sales in bookstores in a long while. DC's four Suicide Squad tie-ins were joined by
Preacher
, behind the new TV series, the classic Watchmen, and a coloring book.
On the flip side, there were only two Image titles in the Top 20,
Saga
and
Monstress
, which were both released in July and hung on for a second month.
Two Tokyo Ghoul volumes and the latest My Hero Academia from Viz, and the latest
Attack on Titan
volume from Kodansha made up the four manga titles in the Top 20 in August.
Two stand-alone volumes reappeared on the Top 20:
American Born Chinese
and
Fun Home
. The Tony Award-winning musical based on
Fun Home
is finishing its Broadway run next month and starting to tour, undoubtedly bringing new attention to the graphic novel in more markets.
BookScan Top 20 Graphic Novels in August 2016

Rank

Title

Author

Publisher

1

BATMAN: THE KILLING JOKE DLX ED HC

ALAN MOORE

DC COMICS

2

MARCH: BOOK THREE

JOHN LEWIS

TOP SHELF PRODUCTIONS

3

MARCH: BOOK ONE

JOHN LEWIS

TOP SHELF PRODUCTIONS

4

CLINTON CASH: A GRAPHIC NOVEL

CHUCK DIXON

REGNERY PUBLISHING

5

MARCH: BOOK TWO

JOHN LEWIS

TOP SHELF PRODUCTIONS

6

SAGA VOL. 6

BRIAN K. VAUGHAN

IMAGE COMICS

7

TOKYO GHOUL VOL. 8

SUI ISHIDA

VIZ MEDIA

8

HARLEY QUINN VOL. 1 (N52)

JIMMY PALMIOTTI

DC COMICS

9

MY HERO ACADEMIA VOL. 5

KOHEI HORIKOSHI

VIZ MEDIA

10

AMERICAN BORN CHINESE

LUEN GENE YANG

SQUARE FISH

11

ATTACK ON TITAN VOL. 19

HAJIME ISAYAMA

KODANSHA COMICS

12

HARLEY QUINN'S GREATEST HITS

VARIOUS

DC COMICS

13

MONSTRESS VOL. 1

MARJORIE LIU

IMAGE COMICS

14

SUICIDE SQUAD VOL. 1 (N52)

ADAM GLASS

DC COMICS

15

WATCHMEN

ALAN MOORE

DC COMICS

16

STAR WARS: DARTH VADER VOL. 3

KIERON GILLEN

MARVEL COMICS

17

TOKYO GHOUL VOL. 1

SUI ISHIDA

VIZ MEDIA

18

PREACHER BOOK ONE

GARTH ENNIS

VERTIGO

19

FUN HOME: A FAMILY TRAGICOMIC

ALISON BECHDEL

MARINER BOOKS

20

COLOrING DC: BATMAN: MAD LOVE

PAUL DINI

DC COMICS
For past BookScan Top 20 Graphic Novel lists, see the "BookScan Top 20 GN Index."