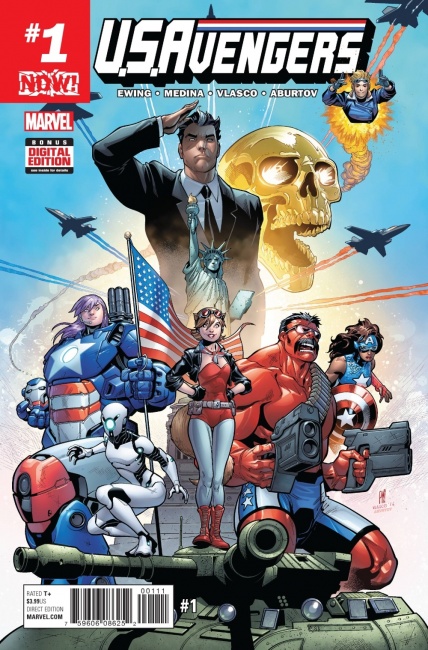 Comic and graphic novel sales to North American comic stores declined 3.41% in January vs. the year ago period, according to information released today by Diamond Comic Distributors. Comic sales actually rose 0.36% over January 2016, but graphic novel sales declined 11.88% over the same period a year ago.
Comic sales declined 7.5% from sales in December 2016, while graphic novels were down 18.85% from December.
Marvel's market share lead slipped a point, while DC made a 2.76% gain over last month.
January 2017 Comic Channel Market Share
37.09% Marvel Comics
28.93% DC Entertainment
9.82% Image Comics
5.25% IDW Publishing
4.04% Dark Horse Comics
2.09% BOOM! Studios
1.65% Dynamite Entertainment
1.24% Titan Comics
1.15% VIZ Media
0.82% Valiant Entertainment
7.92% Other Non-Top 10
Marvel's U.S. Avengers #1 tops the Top 10 Comics chart, followed by two Batman titles. The latest Walking Dead title was the only outlier not from the Top 2.

Top 10 Comics – January 2017
U.S. Avengers #1
Batman #14
Batman #15
Justice League / Power Rangers #1
The Walking Dead #162
All-Star Batman #6
Justice League Vs. Suicide Squad #3
Monsters Unleashed #1
Amazing Spider-Man #23
Justice League #12
DC's Batman Volume 1: I am Gotham was the bestselling graphic novel in January. Saga Vol 1 and Paper Girls Vol 1 both made returns to the chart.

Top 10 Graphic Novels – January 2017
Batman Volume 1: I am Gotham TP
Kill or Be Killed: Volume 1 TP
The Flash Vol. 1: Lightning Strikes Twice TP
Superman Vol 1: Son of Superman TP
Saga Volume 1 TP
Justice League Vol. 1: The Extinction machine TP
Paper Girls Volume 1 TP
Star Wars: Han Solo TP
Green Arrow Vol. 1: The Live & Death of Oliver Queen TP
The Black Monday Murders Volume 1: All Hail God Mammon TP
For our estimates of actual sales by Diamond U.S. from comic specialty stores on comic books shipped during January, see "Top 300 Comics Actual--January 2017."

For our estimates of actual sales by Diamond U.S. from comic specialty stores on graphic novels shipped during January see "Top 300 Graphic Novels Actual--January 2017."

For our estimates of actual sales by Diamond U.S. from comic specialty stores on comic books shipped during December, see "Top 300 Comics Actual--December 2016."

For our estimates of actual sales by Diamond U.S. from comic specialty stores on graphic novels shipped during December, see "Top 300 Graphic Novels Actual--December 2016."