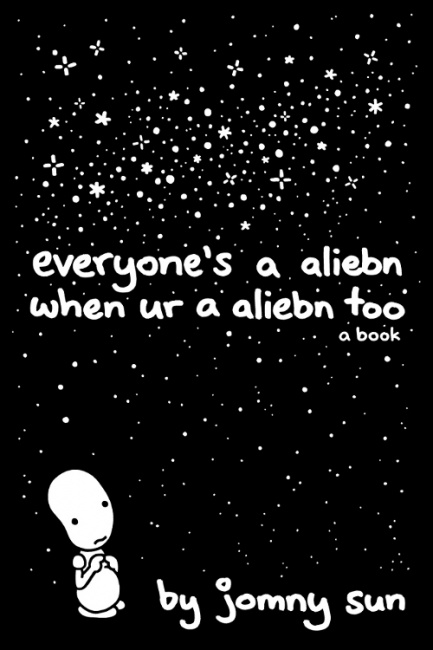 The half a million Twitter followers on the @jonnysun account buy books! Jomny Sun's
everyone's a aliebn when ur a aliebn too
returned to the top of the bestseller list in the book channel in December, based on the December 2017 Top 20 Adult Fiction Graphic Novel chart provided exclusively to ICv2 by NPD BookScan. The Harper Perennial volume has now been in the Top 20 for seven consecutive months, and velocity seems to be accelerating again. After going #2 and #1 in June and July, respectively, the title has been hanging around the middle of the Top 20 until recently; it was #2 in November and now has topped the chart for December.
The second volume of
Dragon Ball Super
from VIZ Media was the bestselling of only three new titles on the December chart. That's fairly typical for December, as holiday releases are usually scheduled to street before the final month of the season.
There were five non-graphic novels on the list: four DK Publishing "about" books, plus Dark Horse Comics' The Art of Rick and Morty HC.
BookScan Top 20 Graphic Novels in December 2017

Rank

Title

Author

Publisher

1

EVERYONE'S A ALIEBN WHEN UR A ALIEBN TOO: A BOOK HC

JOMNY SUN

HARPER PERENNIAL

2

STAR WARS MADE EASY: A BEGINNER'S GUIDE TO A GALAXY FAR, FAR AWAY HC

CHRISTIAN BLAUVELT

DK PUBLISHING

3

GOING INTO TOWN: A LOVE LETTER TO NEW YORK HC

ROZ CHAST

BLOOMSBURY UK

4

DRAGONBALL SUPER VOL. 2

AKIRA TORIYAMA

VIZ MEDIA

5

ULTIMATE MARVEL HC

ADAM BRA/LORRAINE CINK

DK PUBLISHING

6

OVERWATCH: ANTHOLOGY VOL. 1

BLIZZARD ENTERTAINMENT

DARK HORSE BOOKS

7

MARVEL ENCYCLOPEDIA: UPDATED AND EXPANDED HC

MATT FORBECK

DK PUBLISHING

8

MY HERO ACADEMIA VOL. 1

KOHEI HORIKOSHI

VIZ MEDIA

9

BATMAN: THE KILG JOKE DLX ED HC

ALAN MOORE

DC COMICS

10

ULTIMATE LEGO STAR WARS HC

ANDREW BECRAFT

DK PUBLISHING

11

STAR WARS: DARTH VADER - DARK LORD OF THE SITH VOL. 1

CHARLES SOULE

MARVEL COMICS

12

THE WALKING DEAD COMPENDIUM ONE

ROBERT KIRKMAN

IMAGE COMICS

13

TOKYO GHOUL: RE VOL. 2

SUI ISHIDA

VIZ MEDIA

14

MY FAVORITE THING IS MONSTERS

EMIL FERRIS

FANTAGRAPHICS BOOKS

15

THE WALKING DEAD VOL. 28

ROBERT KIRKMAN

IMAGE COMICS

16

BATMAN/THE FLASH: THE BUTTON DLX ED HC

KING / WILLIAMSON

DC COMICS

17

WATCHMEN

ALAN MOORE

DC COMICS

18

TOKYO GHOUL: RE VOL. 1

SUI ISHIDA

VIZ MEDIA

19

THE ART OF RICK AND MORTY HC

JUSTIN ROILAND

DARK HORSE BOOKS

20

MY HERO ACADEMIA VOL. 10

KOHEI HORIKOSHI

VIZ MEDIA
For past BookScan Top 20 Graphic Novel lists, see the "BookScan Top 20 GN Index."