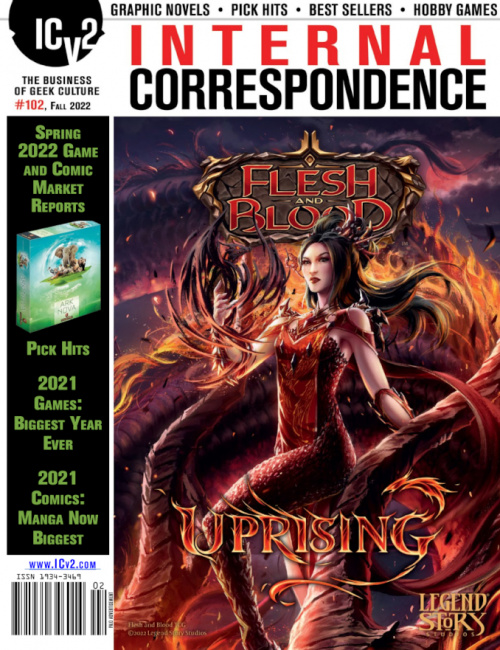 It may sound like a (happily!) broken record by now, but... yep, comic stores enjoyed massive, typically double-digit increases in sales across the board in 2021. The good news for the first five months of 2022? Things are still increasing, albeit at a slower pace.
And retailers are keeping their eyes on the horizon, as inflation concerns creep in, and a tidal change is underway with people selling their collectibles back to stores at a frenetic pace.
ICv2 got feedback from a number of bellwether large chain retailers.
Phil Boyle, Coliseum of Comics, nine stores in Florida
"Manga is up, but so has been the supply, which was a trickle until the last few months. With a steadier supply, I expect the column to grow exponentially over the next 2 years."
"In the last week, we have probably bought more product from customers than we had in the previous month. So much of that is, 'I gotta make rent.' We have been spending an inordinate amount of money on that. This is definitely a buyer's market, and we're the buyer. We are getting calls every day."
John Robinson, Graham Crackers, 12 stores mostly in metro Chicago
"Sales and interest in the manga sub-category are definitely up, and the supply chain is going in the right direction for now as we've slowly been able to restock some of the most in-demand titles."
"One of the most telling signs to me is the startling number of people that are reaching out to sell their product. Nothing tells me people are struggling more than this. Almost every single day I'm getting calls asking if I can come look at their collection. It's not a good sign. People are needing some extra cash to cover their bills. I'm assuming the cost of gas is a big part of this."
Mike Banks, Samurai Comics, four stores in metro Phoenix
"We had one employee quit because of the price of gas, costing too much to get to and from work. In all my 20 years here, yeah, that's a new one to me for a reason to leave the job. And we are seeing more and more collections come in, all the time. To me, that's always been a predicator of 'Yep. Money's getting tight.'"
"Back issues is a huge growth area in our stores, up over 100%. A big part is all the crazy speculation going on."
"Manga sales continue to grow for us, slowed only by the continuing supply issues."
Ed Greenberg, Collector's Paradise, three stores in metro Los Angeles
"Stronger sales from DC, focusing on Batman and Batman. More Batman titles leads to more overall DC sales, until attrition sets in, which is starting to happen."
"Marvel relaunched seemingly every title and it helped boost the sales. Thank God for Donny Cates and Al Ewing. How long they can keep this up?"
"Very strong performance from a couple of Image titles, which boosted Image numbers overall. Overall, Image suffered from a lack of big books besides Stray Dogs and Saga."
"Indies were very strong, particularly Vault and AWA. Both publishers produced great books, unique in the marketplace, and both offered retailers pretty much what we needed, going all in on incentives, discounts, returnability and great PR both to us and to our customers."
The full-length version of this article, with sales data by publisher from the participating chains, appeared in Internal Correspondence #102, and is available on the ICv2 Pro site (click here).

For the top graphic novel franchises in four categories, see:
Top 10 Author Graphic Novel Franchises – Spring 2022
Top 10 Kids Graphic Novel Franchises – Spring 2022
Top 10 Manga Graphic Novel Franchises – Spring 2022
Top 10 Superhero Graphic Novel Franchises – Spring 2022

If you are a U.S. retailer, e-mail Dennis Viau at DViau@ICv2.com to get your free subscription to Internal Correspondence.

ICv2 Pro subscribers have early and complete access to Internal Correspondence content here. To sign up for a free two-week trial, click here.

Digital copies (PDFs) are available instantly from your favorite DriveThru store. To order a digital copy of ICv2's Internal Correspondence #102, click here.

For librarians and educators interested in subscribing to ICv2's Internal Correspondence, order from EBSCO (title #408-601-128) or WT Cox (title #128411).