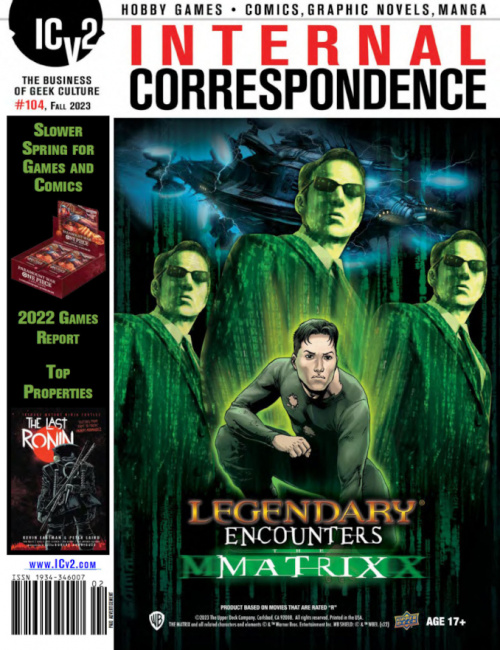 Hobby game sales rose 7% in 2022, as consumer behavior and market conditions normalized, and Covid impacts ebbed through the year. Collectible games carried the category in dollars, while roleplaying games had the fastest growth rate (at smaller dollars). All other subcategories were flat or down.
We define "hobby games" as those games produced for a "gamer" market, generally (although not always) sold primarily in the hobby channel of game and card specialty stores. We define the "hobby games market" as the market for those games regardless of whether they're sold in the hobby channel or other channels. Our estimates include sales in the U.S. and Canada.
The total hobby games market estimate is derived from estimates for five individual categories: collectible games (which include Trading/Collectible Card Games, Collectible Miniatures, and other collectible formats), miniatures (non-collectible), board games, card and dice games, and roleplaying games.
Our primary means of collecting data about hobby games sales is interviews with key industry figures with good visibility to sales in various subcategories and channels. We also review data released by publicly traded companies, publicly available NPD data, and Kickstarter data and analysis. There were no major changes in methodology for 2022.
2023 Trends
The normalization of the hobby games market took hold along multiple fronts. Supply chains got cheaper and faster through the year, with the congestion that clogged ports and domestic carriers in the depths of the pandemic waning. While some shortages persisted, they were few and far between by the end of the year.
Overall demand moved toward pre-Covid levels. Collectibles cooled off dramatically, as consumers shifted focus from investing and speculating to spending. At the same time, at-home activities were shrinking as a share of time, which led to less time for gaming.
With supply chains catching up and demand shrinking, inventory started to pile up, and the trade had to work through those issues, largely by cutting orders, especially at mass retail.
Inflation, especially on food, was high in 2022, pulling down spending on discretionary items like games, especially for those at the lower end of the income scale. Those trends were felt more at mass retail, where they combined with the higher inventory to produce more drastic cutbacks in hobby games by the end of the year.
With a growing consumer willingness to mingle with other people, in-store shopping returned with a vengeance, especially in the holiday season, which saw in-store sales grow faster than online sales for the first time in memory. This was especially true at hobby game stores; consumers had gained a new appreciation of the role the local store played in the gaming community when it was cut off by social distancing.
In hobby game stores, organized play grew slowly through the year, although not to pre-pandemic levels. Conventions also returned, also at lower attendance levels (and exhibitor participation) than in 2019. With in-store activities ramping up but still at lower levels and conventions that weren't at their former heights, there was ongoing pressure on discovery of new games, making it difficult for publishers to get traction on launches of anything except the biggest titles.
Sales trends were not the same across channels. The hobby channel continued to grow, while the mass and specialty retail channels were flat at best; Circana (formerly NPD) reported that its Games and Puzzles category was flat year over year. That includes collectibles, but a closer look at non-hobby board and card games showed a different story: Hasbro reported that other than its Wizards of the Coast and Digital segment, its game sales were down 28%. Crowdfunding was also down, for the first time in years.
For in-depth analysis of 2022 hobby game sales on our Pro site, see "
Hobby Game Sales Up 7% in 2022 – In Depth
").
For other market reports on Spring 2023, see:
Top Brands Drive TCG Growth
Games Workshop Slims Down Channel, 'BattleTech' Bulks Up, 'D&D' Declines
Note: The full-length version of this article, along with all of our market analysis of 2022 and Spring 2023, appeared in
Internal Correspondence
#104, which is available on our Pro site (
click here
).