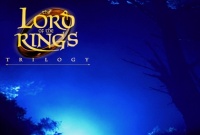 New Line Cinema's first installment of its Lord of the Rings trilogy appears to be one of the biggest potential blockbusters of the year (see 'The Swami...' and 'LOTR')---and with three films spread over a three-year period, it should have a lot more merchandising legs than other film projects. Toy Biz will be the master toy licensee and is planning to unveil a multitude of LOTR toys at this year's Toy Fair. Two different action figure assortments based on the characters and scenes in the first film will be shipping to retailers in July, at least three months before the film opens. The elaborate action figures will carry a $14.99 suggested retail price.
Each of the figures includes a different portion of an elaborate map of Tolkien's Middle Earth, so, in order to get the entire map, kids will have to buy all the figures. Toy Biz is also making available an assortment of smaller twin-packed figures (with a $5.99 retail) as well as a Deluxe Horse Assortment. The Horse Assortment ($14.99 per sku) includes snarling horses with galloping action each accompanied by a character such as Arwen and Asfalot, or one of the Ring Wraiths.
Sideshow Toy, which has garnered lots of praise for the extreme fidelity of the likenesses in their series of figures based on the Universal Studio Classic Monsters, will work closely with WETA, the New Zealand based special effects company that is collaborating with director Peter Jackson on the Lord of the Rings trilogy. With WETA's help Sideshow will create an upscale series of figures, busts, and miniatures based on the new film.
Other key LOTR licensees include Topps, who will be producing a special card series based on the movie.

Look for lots of features that will appeal to Tolkien fans and collectors in the card series.

There certainly should be a comic adaptation as well, although at press time, the beneficiary of that particular license (or whether there will even be one) is unknown.

More to come.