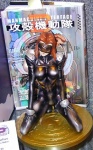 Toycom is the American arm of the Japanese toy company Yamato Co. Ltd, creator of the famed Macross (Robotech) toys. Ironically Toycom does not have the right to distribute Macross toys in the U.S., but nevertheless the company is ramping up its imports of anime-inspired action figures and resin statues. Thanks to its connections in Japan, Toycom has the potential to be a major player in supplying anime merchandise to the U.S. market.
Appleseed/Masamune Shirow
At Toy Fair, Toycom displayed an excellent array of toys based on the manga creations of Masamune Shirow (Ghost in the Shell) including figures from Shirow's classic manga series Appleseed, as well as action figures and a resin sculpture from Man-Machine Interface, the sequel to Ghost in the Shell, which Dark Horse plans to publish later this year (see 'Ghost in the Shell 2: Man-Machine Interface'). Shirow is one of the key Japanese creators and his works have a solid track record here in the U.S., where Ghost in the Shell has been one of manga and anime's major merchandising success stories.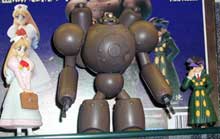 Steam Detectives/Kia Asimiya
Kia Asimiya is another important Japanese creator, who is well known in the U.S. both for his manga series and for the work he has done for DC Comics. Toycom has three great figures from Asimiya's Steam Detectives, which is currently being serialized in Animextra from Viz, including the robot Goriki and the sexy nurse, Rinrin, as well as action figures for Kiddy and Katsumi from Asimiya's Silent Mobius manga
Trigun
Toycom also has a 12' Vash the Stampede figure from the Trigun anime. The Vash figure, which comes complete with mega-size handgun and the cute little black cat Kuroneko, has a real cloth red trenchcoat with internal wires that make it extremely poseable. Toycom has added to its Giant Robo line with three 6' PVC statues of the sexy Gin Rei (in Red Dress, Black Dress, and Bikini), and also showed figures based on Samurai X, Berserk, Okage, and the Metal Gear Solid video game.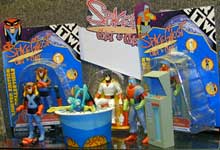 Space Ghost
Toycom's Space Ghost figures are not anime-related but there is considerable audience crossover.

Space Ghost remains a potent license because of its Cartoon Network exposure, and Toycom has a number of cool Space Ghost items including 'glowing' figures, a replica of the Space Ghost studio set, and a Previews Exclusive Spectre figure.