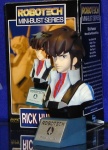 Toynami displayed a wide variety of Robotech merchandise at the latest New York Toy Fair. The first series of Robotech Action Figures, which feature 18 points of articulation, has already shipped to stores and a second series is planned for later in 2002. In Series 2 each of the five figures includes a component of the SDF-1 figure so collectors who buy all five get a bonus figure. In addition to the action figures and the smaller 'morphers,' Toynami is also producing a series of Robotech mini-busts featuring all of the anime space saga's top characters. Fully painted, limited edition (2,500) cold cast mini-busts of Rick Hunter and Roy Fokker are set for 2002 with Lynn Minmei, Max Sterling, and Miriya still to come.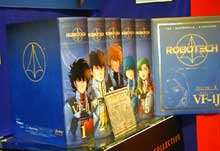 The crown jewel of the Toynami Robotech line is the Robotech Masterpiece Collection, the most detailed, most accurate re-creation of the Robotech Veritech fighter ever produced. The fully transformable Veritech fighter comes in book-style packaging with a slide-out tray. Volume #1 in the Masterpiece Collection, which features Rick Hunter's fighter, is already sold out at wholesale, though it's not expected to ship until spring. Toynami isn't planning on soliciting for additional volumes in the Masterpiece Collection until after Volume #1 ships.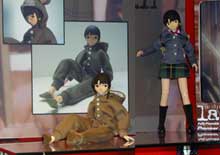 Toynami's other anime offering for 2002 consist of two collector's action dolls for Serial Experiments: Lain, the first of which features the heroine in her schoolgirl uniform with backpack, while the second has her clad in flannel Bear pajamas. Exactly when the Lain dolls will ship as well as the suggested retail price has not yet been decided. Stay tuned to ICv2 for further details as they become available.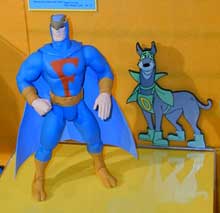 In addition to its anime related toys, Toynami is developing another line featuring Hanna Barbera characters licensed from the Cartoon Network that should be of great interest to pop culture retailers. Action figures of Birdman (with his eagle sidekick, 'Avenger'), Dynomutt & the Blue Falcon, and two sets of Herculoids figures (including a Gloop & Gleep Two-Pack with squishy, protoplasmic action) are all planned for 2002 with Thundarr the Barbarian and the Galaxy Trio are waiting in the wings. Retro cartoons are hot and you can't get much more retro than the boot-clad Dynomutt.