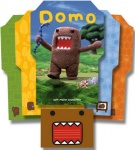 Dark Horse Deluxe has announced a lineup of merchandise based on the Japanese NHK mascot Domo including a self-mailer stationery set, a sculpted refrigerator magnet, an embroidered patch, two different journals, and a line of limited edition flocked 8.5-inch vinyl figures. Twenty-two new stop-motion Domo cartoons are soon to debut as interstitials on the Nicktoons network (see 'Domo to Air on Nick'), which should greatly enhance the character's popularity. Domo has already developed quite a following among the computer cognoscenti in the U.S., in part due to a thread on the Fark Website that first appeared in mid-2001.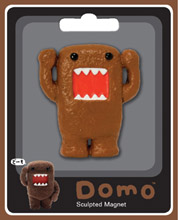 The self-mailer stationery set and the embroidered patch will be released in April along with a Domo Photo-Cover Journal, which sports a cover depicting Domo rolling in the grass with patches of flowers all around. Dark Horse has not released the exact prices of the April items, but has indicated that they will range from $4.99 to $9.99.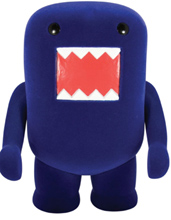 The second journal, which comes with a flocked cover, and the sculpted magnet are set for June and will range in price from $7.99 to $14.99. The Limited Edition 8.5' Flocked Vinyl Domo Figures will also be available in June for an MSRP of $39.99. These figures will come in three variant colors (the first time Domo has ever been depicted in anything but brown) as well as the traditional brown. The Classic Brown Flocked Domo Figure will be a limited release (though DHD has not released the figure), while the Royal Blue Domo Figure will be limited to 500, as will the Fabulous Fuchsia Domo Figure. The Polar Bear White Domo will be produced in a very limited edition of just 250.