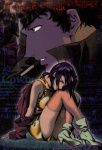 According to a source at Bandai, Cowboy Bebop will indeed be broadcast on the Cartoon Network. The cutting edge science fiction anime will be broadcast weekly as part of an 'adult swim' block that will appear nightly on the Cartoon Network. This will be an important event since it will mark the first regular appearance of a more mature anime title on the network. Cowboy Bebop will still be edited for its U.S. broadcast, but its appearance nonetheless signals an important change that could open the doors to anime titles that might garner 'PG' or even 'R' ratings due to violence and occasional sexy scenes.
Produced by Sunrise Animation and directed by Shinichiro Watanabe, Cowboy Bebop takes place in an anarchic future in which the development of the means of space travel (the PDS gate) has inadvertently damaged the planet Earth, sending many humans scurrying into outer space. Spike Spiegel, the central character of the Cowboy Bebop saga, is a generally amoral pragmatist, who is nonetheless often constrained by a strong sense of loyalty. Other key characters include Spike's sidekick, Jet Black, an ex-cop with an artificial arm, the sexy Fey Valentine, Ed, a partially feline female character who sleeps twelve hours a day, and Eine, a supposedly hyper-intelligent dog.
There are 26 half hour Cowboy Bebop episodes, many of which have cute musically-derived names like 'Stray Dog Strut,' and 'Honky-Tonk Woman.'

Many of the episodes are already available on DVD and VHS from Bandai -- and these are the complete, uncut Japanese versions, which are recommended for collectors.

If the series finds favor with American audiences, the Cowboy Bebop videos should do extremely well, and then there's aways the hope that Bandai, which is Japan's leading toy company, might give Cowboy Bebop its own toy assortment instead of including it in an anime set (see 'Bandai To Produce Anime Sets...'). Other products such as wall scrolls and t-shirts can also be expected from licensees.