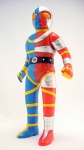 Max Toy Company, a new company formed by former Super7 publisher Mark Nagata, has announced plans to produce a Kikaida figure, based on the classic 70s anime. The 9.5' soft vinyl toy will be packaged in a classic vintage Japanese toy style clear bag with header card and backing card featuring Nagata artwork.
The Kikaida figure will be released in two versions, a normal paint version, and a special Clear Mechanical Kikaida version with paper inserts that replicate the mechanical interior of Kikaida. The figures will be shipped to retailers in July.
Nagata's affinity for the Kikaida character comes with him from Super7, which was named after the seven dominant Japanese toy lines (see 'Super7: The Magazine of Japanese Toy Culture'). The magazine is now owned by Brian Flynn.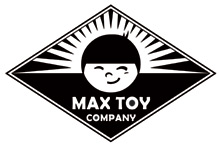 Nagata left last October, after three years at the magazine, to form Max Toy Company to produce toys based on original and licensed characters. The Kikaida figures are licensed from Toei, Ishimori Pro., and JN Productions of Hawaii.
The company has also produced a figure based on an original character, Captain Maxx, an homage to classic Japanese characters such as Ultraman and Spectreman.
All of the figures listed above carry $39.99 MSRPs. Max is selling direct to retailers, and is working to establish distribution through Diamond Comic Distributors and specialty retail chains.