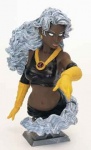 Diamond Select is soliciting orders for its first Marvel 3-d product to ship in February -- the Ultimate Storm Bust based on Ultimate X-Men. The bust will be approximately seven inches high and will be available in a regular and a 500-piece Special Limited Edition. The sculpt is by Rudy Garcia, who did the Evil Ernie Bust for Diamond Select and previously sculpted for Toy Biz, Hallmark, Trendmasters, and others. The box will feature new art -- a comic book version of the bust -- by Ultimate X-Men artist Adam Kubert.
Diamond Select was granted the license to produce Marvel statues, busts, bookends, and snowglobes last summer (see 'Diamond Select To Do Ultimate Statues'), and the agreement was called 'expansive' at the time.

But Bowen Designs continues to solicit new Marvel products for shipment during February, the first month of Diamond Select's production.

In fact, Bowen solicited four Marvel products for February -- a statue, two mini-busts, and one mini-statue.

At the same time, one distributor told us that he thought that Bowen was working to reduce its inventory of Marvel products, so it's unclear whether Marvel has granted licenses for different parts of its line to the two companies, or whether this is some kind of overlap period.