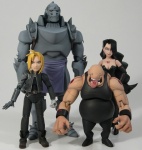 Paid Advertisement. ICv2 is offering retailers a chance to win over $1000 worth of Southern Island anime figures just by subscribing to ICv2's free daily e-mail newsletter.
Collectible figures based on anime properties are in big demand from fans, and this prize from Southern Island includes figures based on three of the hottest properties, worth over $1050 retail. These hot figures are in three different formats, showing the breadth of collectibles available.
- 3 cases of the Fullmetal Alchemist Series One Action Figures
(Case contains 12 figures total -- 3 ea. of 4.different characters: Alphonse Elric, Edward Elric, Gluttony and Lust. Each figure stands 6 to 8-inch tall. $14.99 SRP each). The Fullmetal Alchemist figures are due for release in March of 2007, and will ship to the winner then.









- 3 cases of the Samurai 7 Trading Figures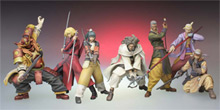 (Each case contains 10 trading card figure boxes. Collect all seven Samurai 7 figures with displays. $7.00 SRP each).





- 2 each of the 4 Fruits Basket Maquettes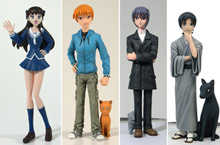 (Includes: Tohru Honda Maquette (6.6-in. tall); Kyo Sohma Maquette (6.6-in. tall); Shigure Sohma Maquette (6.6-in. tall); and Yuki Sohma Maquette (6.6-in. tall). $39.99 SRP each).
To subscribe to the free ICv2 e-mail newsletter and register for this great contest, click here.
For more information on this exciting promotion for new subscribers, see 'Retailers--Win $1000 Worth of Merchandise'
To find out more on these products from Southern Island, click here.