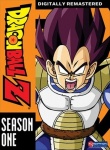 In the Navarre Corporation's earnings report for the quarter ending March 31st, which also marked the end of its fiscal year, Navarre subsidiary FUNimation demonstrated an impressive sales gain of 47.8% over the previous year.
Full Metal Alchemist, Dragon Ball Z Season Sets, Trinity Blood
and
Basilisk
were singled out as prime contributors to the strong performance. Certainly the fact that the first re-mastered
DBZ Season Set
has been the top-selling DVD release of 2007 so far (see '
Video Games Keep DBZ Hot
') indicates that FUNimation has had some real successes in recent months.
The importance of FUNimation to Navarre's bottom line was underscored by the inclusion in the report of a note about the shifting of the release of Afro Samurai DVD to the next quarter as a possible explanation of why Navarre's sales were down $3.3 million versus the same quarter in the previous year, but the real culprits were declining sales from BCI, whose vintage TV on DVD releases are facing stiff competition in a crowded market and forcing BCI to deal with higher than anticipated returns, and Encore, where sales of non-entertainment brands were down.