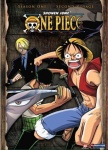 According to Big Champagne, a company specializing in Internet metrics, the anime series One Piece was the top BitTorrented TV download for the week ending July 7th. One Piece was the only anime series on a list of the Top 20 TV BitTorrent Downloads based on data from Big Champagne that was published on the NewTeeVee Website. The only other animated series on the list were The Simpsons at #8 and Family Guy at #13.
According to NewTeeVee, the rankings are global. "Rankings are based on global download volumes as measured by swarm sizes, swarm speeds and file sizes," the report said. "These data reflect the collective global popularity of all available show content from all seasons current and past, not just the most recent broadcast." But One Piece is the only TV series in the Top 20 that did not originate in the U.S., which puts the "global" nature of these metrics in some doubt. Still the fact that One Piece tops the list testifies not only to its continuing popularity in Japan, where 362 episodes have been produced and as many as four episodes air every week, but also to the size of its global audience. The One Piece anime series did air earlier this year on the Cartoon Network, but is not currently on the schedule, though it is widely available on TV and cable systems in Latin America and Europe.
FUNimation took over the North American rights to the One Piece anime from 4Kids Entertainment in April of 2007, and has begun the process of releasing the series in uncut box sets. The first set 12-episode set was released in May and One Piece Season One, Second Voyage is due out on September 23rd.