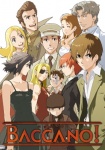 FUNimation has announced the acquisition of the 13-episode Baccano! anime series, produced by Aniplex and Brains-Base, on its Website. The series, which is based on an award-winning series of light novels by Ryohgo Narita, aired in Japan in 2007.
The Baccano! anime is the high concept story of the havoc wrought by an immortal 18th Century alchemist who shows up in New York in the 1930s and brews a batch of immortality elixir that falls into the hands of a disparate group of lowlifes that includes small-time thieves, well-connected gangsters, and deadly assassins.
In other words Baccano!, which means "ruckus" in Italian, is a loud, brash pulp magazine sort of comedy that is riddled with both bullets and humorous absurdities. This prohibition era saga is "pulpy" through and through. It not only has a cast of characters that could have stepped right out of the pages of Black Mask, its narrative is propelled by a series of non-linear, seemingly random, but actually connected coincidences—a storytelling technique that owes everything to Quentin Tarantino's Pulp Fiction. No word yet on when (or in what format) FUNimation plans to release Baccano!.