The Hollywood trades are reporting that Kung Fu Hustle director/star Stephen Chow will direct the new Green Hornet movie and also star as Kato. A slimmed-down Seth Rogen will portray Britt Reid, the newspaper publisher and nocturnal masked crimefighter, who was created by George W. Trendle and Fran Striker (the same team responsible for The Lone Ranger) for a 1930s radio show.
Sony/Columbia optioned the property in 2007 (see "Green Hornet's Big Screen Buzz") and Seth Rogen has been attached to the film for over a year (see "Green Hornet Gets Seth Rogen"), but the addition of Chow, who is a major martial arts star (and director) in Asia, provides much needed momentum to this project, which is now scheduled to hit theaters on June 25th, 2010.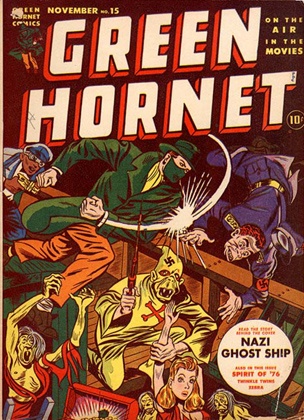 The Green Hornet
was introduced to a mass audience through the 1936-1952 radio show and has appeared in a number of comic book series and in two 1940s movie serials, but the character's most popular iteration for modern audiences was undoubtedly
The Green Hornet
TV series, which ran from 1966-1967 and introduced Bruce Lee to American audiences. Chow, whose
Kung Fu Hustle
was also produced by Sony/Columbia, was obviously pleased to be involved in the project, especially because of its connection to Bruce Lee, one his idols, commenting: "I'm excited to be taking on
The Green Hornet
-- obviously I've been a huge fan of the show since I was a kid. The idea of stepping into Bruce Lee's shoes as Kato is both humbling and thrilling, and to get the chance to direct the project as my American movie debut is simply a dream come true."
Well known for his innovative use of slapstick and absurdist humor in martial arts comedies such as Shaolin Soccer and Kung Fu Hustle, Stephen Chow appears to be the perfect choice both to reprise Lee's role as Kato and to direct the film.