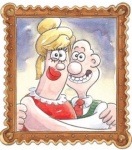 Nick Park is currently putting the finishing touches on a new Wallace and Gromit short, "A Matter of Loaf and Death," that will be aired in the U.K. before the end of the year. The 30-minute stop action film is the first new Wallace and Gromit project since the feature film, Curse of the Were-Rabbit came out in 2005, and the first Wallace and Gromit short film since "A Close Shave" in 1995.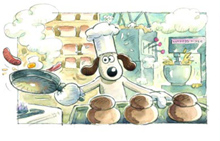 In "A Matter of Loaf and Death," which was originally entitled " Trouble at the Mill," Wallace and Gromit have opened a bake shop known as "Top Bun," when Gromit learns of the strange disappearances of a number of bakers and attempts to solve the mystery before Wallace becomes a victim.
Wallace gets a new love interest in the movie, the bread-obsessed Piella Bakewell, who is voiced by Sally Lindsay, best known for her role as Shelly Unwin in the long-running ITV soap opera
Coronation Street
.