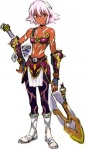 The battle over the rights to new anime series continues unabated. Today Bandai Entertainment announced that it had acquired the North American rights for .hack//SIGN (pronounced 'dot-hack') anime series. The new series takes place in a future that is dominated by an immersive virtual gaming environment where reality and virtual reality collide. Some of Japan's top anime creators have worked on the .hack//SIGN anime including Yoshiyuki Sadamoto, who provided character designs for Evangelion and Wings of Honneamise, and does equally brilliant work on .hack//SIGN, where he is joined by scriptwriter Kazunori Ito (Ghost in the Shell) and director Kouichi Mashimo (Noir). Although 'virtual reality' live action movies have generally been as dismal as the games are fun, the word from Japan is that the creators of .hack//SIGN got it right.
Bandai Entertainment's sister company Bandai America is getting in on the act by offering an American version of the .hack//SIGN video game for the Playstation 2 platform.

The Playstation 2 game, which is set to debut in October, will also include a separate .hack//SIGN OVA (original video animation) DVD that is completely different and separate from the .hack//SIGN anime series that Bandai Entertainment will release.

No release date for the .hack//SIGN anime series has been set yet.

Stay tuned for more details.