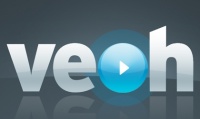 Veoh Networks and Funimation Entertainment have entered into a distribution agreement under which Veoh will launch a dedicated Funimation channel and offer dozens of popular anime titles including Black Blood Brothers, Ghost Hunt, Glass Fleet, Jyu-Oh-Sei, Kiddy Grade, Moonphase, Mushishi, Mr. Stain, Rumbling Hearts, Shigurui, Shikabane Hime, Shuffle, Suzuka, and XXXholic. The Funimation channel, which is being highlighted on Veoh's home page, will launch this week with more than 200 hours of content.
In addition the deal gives Veoh an exclusive window to stream the new Gunslinger Girl: Il Teatrino and Shikabane Hime—with new episodes debuting on Veoh within weeks of debuting on Japanese TV. Veoh is an ad-supported Internet TV service with an impressive list of content suppliers including CBS, MTV, ABC, Warner Bros., ESPN and Lionsgate.
Funimation has also inked a digital content partnership with the Japanese animation studio Toei to distribute English-subtitled episodes of 7 Toei-produced anime series via the Funimation Website. Funimation is streaming one complete series every week starting with Fist of the North Star, which is available now. A new series will be added every week for the next six weeks. Subsequent series include Slam Dunk, Digimon Adventures 02, Captain Harlock, Galaxy Express 999, Pretty Cure, and Air Master. Together the seven series contain more than 500 episodes.