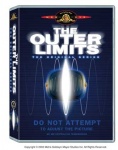 MGM Home Entertainment has announced that it will be releasing the original Outer Limits series on DVD, beginning with Season One in September 2002. The four disk set will carry an MSRP of $79.96. Among the episodes in the first season are 'The Man Who Was Never Born' and 'The Bellero Shield' starring Martin Landau, and 'The Production and Decay of Strange Particles' starring Leanord Nimoy.
MGM will also be releasing two DVD collections of the new Outer Limits series, both at a $14.95 MSRP.

The theme collections, The Outer Limits:

Sex and Science Fiction and The Outer Limits:

Time Travel and Infinity, each contain six episodes and behind-the-scenes features.

And the second season of Stargate SG-1 will be released as a five disk set with an MSRP of $69.96. Special features are also included.