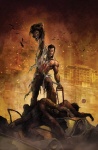 Management and production company Heroes and Villains Entertainment will partner with Top Cow to create and co-finance original comics and graphic novels. The multi-platform relationship will kick off with Tracker, the story of an FBI agent tracking a serial killer who turns out to be a werewolf. The title will be written by Jonathan Lincoln, with art by Francis Tsai.
The series will be previewed at San Diego.
HVE was formed by Markus Goerg (formerly of Prospect Pictures), Dick Hillebrand (Hillebrand Capital Partners), and Mikhail Nayfeld (formerly of Mandate Pictures) and is funded by private equity.
Attorney Harris Miller reps Top Cow and HVE; UTA and The Pitt Group rep Lincoln.