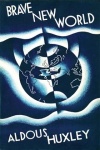 Ridley Scott hopes to produce and direct a feature film adaptation of Aldous Huxley's Brave New World, according to Hollywood Reporter. Leonardo DiCaprio is also attached to produce and star.
Farhad Safinia, who wrote Apocalypto, will write the script. `
Although there have been TV adaptations of the famous dystopian novel, there has never been a feature film version.