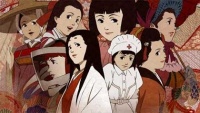 Dreamworks, the studio that thanks to recent successes such as Shrek and Spirit: Stallion of the Cimarron is challenging Disney's supremacy in animation, has obtained the theatrical, home video and ancillary rights to the anime film Millenium Actress. Disney, thanks to its agreement with Studio Ghibli, also has an anime connection; and although Disney's first Ghibli release, Princess Mononoke, was not a box office success in the U.S., the film did very well in Europe and on video (next up from Disney is Spirited Away, see 'Spirited Away in Theaters'). Given the spirited competition between Dreamworks and Disney, it is difficult not to see Dreamworks' initial foray into anime as an attempt to compete with Disney on yet another playing field. Last November Dreamworks debuted the Shrek DVD and VHS editions on a Friday, rather than the traditional video release date of Tuesday, simply in order to upstage the theatrical debut of the Disney/Pixar Monsters Inc., and Dreamworks recently announced that its next two major animation projects would open opposite major Disney animated releases.
Satoshi Kon, responsible for the fascinating anime Perfect Blue, directed Millenium Actress.

The 87-minute feature bowed theatrically in Japan in 2001.

A sort of anime Sunset Boulevard/Citizen Kane, Millenium Actress is the saga of a reclusive actress, who retired to an isolated mansion at the height of her success.

The catalyst for the film is a documentary filmmaker, who wants to make a film about the actress's career that would explain her strange retirement.

Since her career spanned much of the last century, the protagonist of Millenium Actress provides a personal perspective on the turbulent twentieth century. It should be interesting to see how Dreamworks handles Millenium Actress, which is a serious and hard to classify film.

Will it receive a theatrical release in the U.S.?

Who will be involved in creating the American version?

What will the DVD edition include?

No release date or details are available yet. Stay tuned.