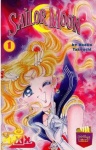 A resurgence of interest in the Sailor Moon property has led to a return of the classic magical girl anime series on the Japanese airwaves last fall. Now Toei Animation is hoping to revive the property on a global scale starting in Italy. Toei is partnering with Backstage, which will handle the property's rights in publishing, TV, and merchandising. Mediaset has acquired the TV rights to the 200-episode anime series and plans to begin broadcasting it in Italy in the fall of 2010.
Toei Animation's Kanji Kazahaya told Global License: "We are certain that strategically Italy is the ideal country to initiate a global re-launch of the classic Japanese animated series such as Sailor Moon. The Italian public has traditionally been passionate about anime."
No word yet on a possible North American revival of the property. DIC introduced the series (in a bowdlerized form) to American TV, while Pioneer and ADV released uncut versions of various elements of the extensive library of Sailor Moon anime. Tokyopop released the Sailor Moon manga here, but the licensed lapsed before it could issue the new revised editions that were issued in Japan starting in 2003.