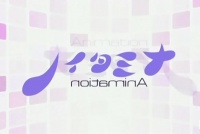 FUNimation Entertainment has announced an agreement with Japan's Fuji Television Network to simulcast anime series featured in Fuji's late night noitaminA programming block, which airs in Japan on Thursday nights. The deal gives FUNimation rights to online streaming and simulcast of the high quality noitaminA series in the U.S.
The first episode to be simulcast will be the debut of The House of Five Leaves, a 12-episode adaptation produced by Manglobe of Natsume Ono's Edo period samurai manga (published here by Viz Media). The first episode of The House of Five Leaves will be available with English subtitles at the FUNimation Website on Thursday, April 15th at 12:30 pm just one hour after its Japanese debut.
On Thursday April 22nd at 11:45 am, FUNimation will stream the first episode of The Tatami Galaxy, Madhouse's 11-episode adaptation of Tomihiko Morimi's novel Yojo-Han Shinwa Taikei directed by Masaaki Yuasa (Crayon Shin-chan).
Fuji's noitaminA ("Animation" spelled backwards) is a late night block of anime programming designed to broaden anime's appeal beyond the typical young male demographic. Some of the series that have debuted on the late night block, which was recently expanded to one hour, include: Honey & Clover, Paradise Kiss, Nodame Cantabile, Toshokan Senso, Antique Bakery, Eden of the East, Tokyo Magnitude 8.0, and Kuchu Buranko.
Upcoming series on noitaminA include Shiki (literally "Corpse Demon"), a 22-episode series from Studio Deen based on the horror novel and manga by Fujumi Ono.