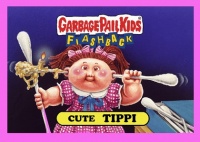 The Topps Company is bringing back two of its most successful non-sports card releases of all time, the Garbage Pail Kids and Star Wars. Following the tremendous success of Flashback Series 1: Garbage Pail Kids, Topps is issuing a second 80-card GPK Flashback series of vintage GPK designs, while also reviving the popular Star Wars Galaxy cards with an all-new series of 120 foil-stamped cards.
The new Garbage Pail Kids series will contain lots of collectible inserts including multiple levels of parallels. Look for 3-D cards, reprints of the highly collectible "Adam Bomb" variants, sketch cards from original GPK artists, printing plates, and ultra rare stamped sketch cards. The new GPK release will be exclusive to the Hobby.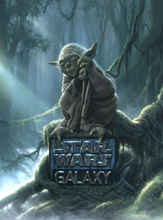 The new
Star Wars Galaxy
cards feature all new art, including poster designs, comic book covers, and production art pieces that have never been included in any of the previous Topps releases.
Plus Topps has commissioned a new series of "Star Wars Visions" from top comic artists as well as highly collectible "Art of Star Wars" and "Art of Celebration" subsets.