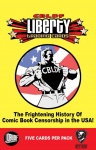 Cryptozoic Entertainment has released more information, including shots of the packaging, for its Liberty Trading Cards, a 70-card set tracing the history of the fight against comic book censorship in America, which will be released on September 13th with all proceeds going to benefit the Comic Book Legal Defense Fund. The five card-packs (MSRP $3.50) feature an image of the "CBLDF Hero" who is springing to action as he rips open his shirt to expose the "CBLDF" logo.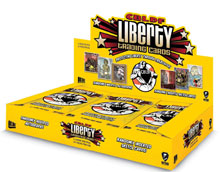 The 24-pack
Liberty Trading Card Box
reminds consumers that the 70-card set includes autograph and sketch cards—prime collectibles from many of today's top comic book artists and writers (for a list of autographs, see "
Liberty Cards Add IPs & More Autographs
").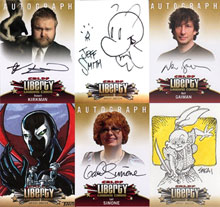 Here's an image of some of the cool surprise cards, autographs and sketch cards that are randomly inserted in the packs. Artists contributing original art sketch cards include Daniel Abarca, Jason Adams, Kokkinaki Axilleas, Josh Blaylock, Chris "Cabbie" Bradbury, Joel Carroll, David Castro, Kourtis Charalabos, Chad Cicconi, Richard Clark, Mickey Clausen, Max Clotfelter, Nikki Cook, Aston Roy Cover, Joey Dangerous, David Day, George Deep, Pablo Diaz, Evan Dorkin, Sean Dove, Jason Durden, Steve Ellis, Randy Emberlin, Gene Espy, Elliot Fernandez, Jerry Fleming, Juan Antonio Fontanez Jr., Chris Foreman, Simon Fraser, Paul Fricke, Paul Hoppe, Neil Gaiman, Brian Germain, Chris Giarrusso, Rusty Gilligan, Kate Glasheen, Jason Gonzalez, Daniel P. Gorman, Jin Han, Ingrid Hardy, John Haun, Rantz Hosely, Lara Hudson, Austin Janowsky, Tyler Jeffers, Cory Jones, Joe Keatinge, Indigo Kelleigh, Gary Kezele, James Kolchalka, Brian Koln, Peter Kuper, Erik Larsen, Ross Leach, Brian Lee, Alayna Lemmer, Tim Levandoski, Rob Liefeld, Lak Lim, Ozzy Longoria, Larry Marder, Mat Mastos, Henry Martinez, Scott McCloud, Chris Metzen, Remy EisuMokhtar, Rich Molinelli, Benjamin Mora, Bill Morrison, Marat Mychels, Diana Nock, Ryan Ottley, Don Pedicini Jr., Ashleigh Popplewell, WhilcePortacio, Frank Quitely, Wilson Ramos, Mike Richardson, Ian Yoshio Roberts, Darrick Robertson, Tone Rodriguez, Victor Julio Rodriguez, Mike Rooth, Jason Roussel, David Ryan, Larry 'Slickaway' Schlekewy, Don Simpson, Chip Skelton, Matt Slay, Dan Smith, Jeff Smith, Danielle Soloud, Vince Sunico, Adam Talley, Philip Tan, Mark Tannacore, Christian James Thomas, Bianca Thompson, Chris Thorne, Bobby Timony, Jesse Toves, Rick Veitch, George Webber, Shannon Wheeler, Eric White, and Mike White.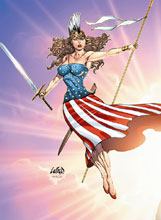 Check out Rob Liefeld's image of Lady Liberty.