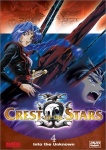 Tech TV, the latest cable network to take a major interest in anime has released the schedule for its Anime Unleashed programming block, which debuts on December 30, 2002 (see 'Anime on Tech TV').

New episodes will air from 1 a.m. to 1:30 a.m. (ET/PT), Monday through Friday, and the episodes will be rebroadcast on Friday from 11 p.m. to 1 a.m., and from 1:30 a.m. to 3 a.m. (ET/PT).

The late night hours may not be convenient for some viewers, but the 'dead of night' showings will allow Tech TV to sample series and anime movies that will appeal to viewers who enjoy realistic scenarios, complex relationships and flawed personalities.

Among the anime series that will appear on Tech TV are Serial Experiment Lain, Silent Mobius, Crest of the Stars, Dual, and Betterman -- a very impressive lineup with a definite science fiction bent, which is also evident in the movies that Tech TV is presenting, which include Armitage III Polymatrix, Ghost in the Shell, Macross Plus, and Patlabor 1.