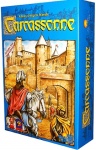 German game publisher Hans im Gluck has announced it has chosen a new partner to release the English language versions of its games. The German publisher had been working with Rio Grande Games, which distributed Hans im Gluck titles such as Carcassonne here in the States, while Hans im Gluck released Rio Grande's Dominion in a German version.
In a statement on its Website, Hans im Gluck indicated by the fall/winter of 2012 the only place to get Carcassonne games in English in North America will be through Z-Man Games. The change will affect the entire Hans im Gluck line including both new products and backlist games.
In a statement on its Website, Rio Grande Games reacted to the news and talked about a new direction for the company: "In an effort to simplify our product line and to better focus on our core business of providing the best games to our customers, Rio Grande Games has been reducing the number of games we co-produce and distribute from other companies. The final step in this process will occur at the end of 2012 when we end our publishing of games from Hans im Gluck. We expect to continue our other publishing arrangements with our other partners and will also expand our own line of games. This includes more products to support Dominion and Race for the Galaxy and to add new games to our own line."
On its own Website Z-Man Games indicated that it would be distributing Hans im Gluck titles starting the in the fall of 2012, stating: "Among the titles Z-man will be producing in English are the Klaus-Jürgen Wrede's blockbuster Carcassonne and all of its expansions, Bernd Brunnhofer's award winning Stone Age and expansions, as well as new games in the HiG collection that are currently in development."