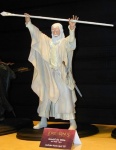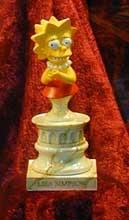 Sideshow Collectibles continues to target hardcore collectors with a bevy of superbly sculpted polystone figures. Sideshow's premier license at present is based on Peter Jackson's Lord of the Rings trilogy. The remainder of Sideshow's Two Towers figures will trickle out over the next few months. Especially notable is a full figure statue of Gandalf clad entirely in white that should hit retail next month. At $125 this Gandalf is not an item for the casual collector, but for those who want (and can afford) the best, Sideshow has the goods. Two more series of three statues and two more series of four busts will complete the Two Towers line by this August.
Film Monsters
Having provided superb figures based on Hollywood's classic movie monsters, Sideshow has moved on to the modern era of slashers and hackers -- just in time to take advantage of a revival of these properties in theaters this coming fall. A brand new remake of that indie horror classic, The Texas Chainsaw Massacre, is slated for release this fall and Sideshow has a 12' Leatherface figure, complete with a blood-drenched, real fabric costume shipping in October. This fall it will be Freddy vs. Jason at the theaters, but you can stage your own contest with 12' figures of Freddy Krueger and Jason Voorhees from Sideshow. Like the Leatherface figure mentioned above Freddy & Jason have fabric costumes as well as their personal implements of horror. All three slasher movie figures have a retail price of $40 per figure.
Star Trek
Sideshow is preparing to release a series of busts featuring the top characters from the original series and Star Trek: The Next Generation. Captain Kirk and Mr. Spock debut in May, while Captain Picard and Data follow in June. These painted 6' busts should retail for around $40.
James Bond
Sideshow has already produced a series of 12' James Bond figures, many of which are already sold out. New for 2003, are Sean Connery as Bond and Odd Job from Goldfinger, Roger Moore as Bond and Christopher Lee as Scaramonga from The Man With the Golden Gun, and Timothy Dalton as Bond and Franz Sanchez from License to Kill. Also new in 2003 is Sideshow's Bond Girl line, which debuts with Honor Blackman as Pussy Galore.
Simpsons, Muppets, Python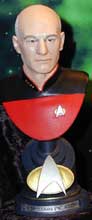 Another new Sideshow line for 2003 is based on The Simpsons (see 'Sideshow Announces Simpsons Busts'), while Sideshow's final two series of Muppets Busts are also scheduled for release this year. Sideshow is also introducing its first two figures from Monty Python's Life of Brian in 2003. Look for Fawlty Towers figures and busts next year.