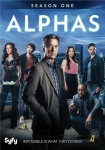 Cryptozoic Entertainment has reached an agreement with NBC Universal Television Consumer Products Group, a division of NBC Universal, to produce a series of trading cards based on the Syfy channel television show Alphas. This will be the first series of collector cards produced for the super-power themed series.
Alphas Season 1 Trading Cards will be available this spring. The cards will feature images from the TV series, with randomly inserted premium wardrobe and autograph cards. Autograph cards will be hand-signed by the show cast and guests, while wardrobe cards will feature pieces of clothing used in the show.
There will be a total of 63 cards in the base set, along with two nine-card chase sets, all featuring the first season of the show. An Alphas binder will also be available, with an exclusive collector card not found in the regular packs. The suggested retail price for each five-card pack will be $3.50. The price for the binder will be $30.00.
Syfy has announced on its Website that it will not be renewing Alphas for a third season.