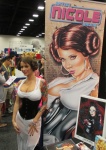 We continue the story of Comic-Con in pictures with our Saturday photos. See also Part 6, Part 7, and Part 8; Part 9 for Sunday. Or go back to Part 1.

NOTE: Any image can be clicked for a larger view.

At the booth of pin-up artist Nicole Brune as the most popular costume of the show passed by: Finn, from Adventure Time.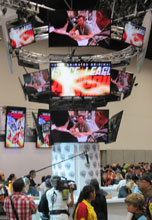 The Warner Bros. booth didn't skimp on screens, here promoting
Justice League Flashpoint,
the new DC animated feature that premiered at Comic-Con.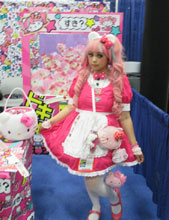 It's a
Hello Kitty
world, we just live in it.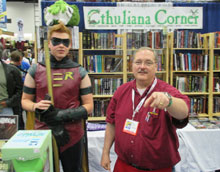 Bob Brynildson of Source Comics and Games and Adventure Retail, which sells games at shows, has Robin for help as he asks, "Do you have correct change?"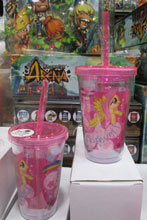 Source Comics and Games says it has sold over 2,000 of this
My Little Pony
cup.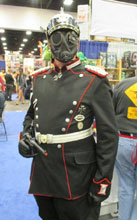 With a gas mask and gloves, this guy was ready for anything.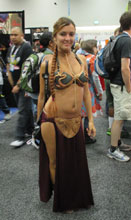 Another Slave Leia.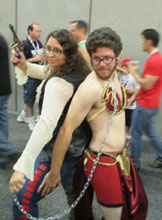 Another twist on the character (as well as Han Solo).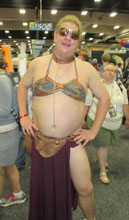 And another, who seems supremely confident that this is a great idea.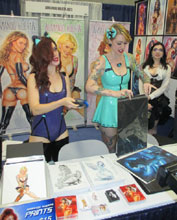 Booth models at the booth of pin-up artist Armando Huerta.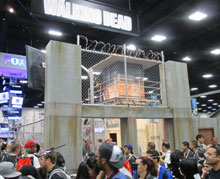 AMC's
The Walking Dead
went with the prison, where so much of the third season took place, for its fan photo op this year.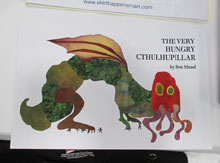 The Very Hungry Cthulhupillar
, the latest in Smart Pop Books' children's book parodies.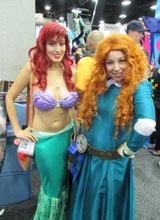 Disney meets Pixar: Ariel from the
Little Mermaid
and Princess Merida from
Brave
.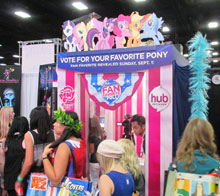 More
My Little Pony
fun, the Hub's "Vote for your favorite Pony" booth.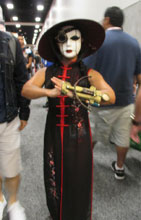 Calm, but dangerous.
Click here for
Part 6
.