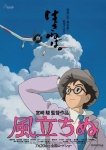 The Wind Rises
, the most recent film by famed director Hayao Miyazaki, will get a wide, dubbed release in the U.S., according to
Variety
. Disney is planning an initial Oscar-qualifying subtitled release in New York and Los Angeles, opening November 8th. Then on February 21, 2014, the film will be released in a limited number of cities in both subtitled and dubbed versions, with a wider release to follow.
The Wind Rises
is an animated biography of Jiro Horikoshi, the designer of the Japanese Zero.
The voice cast for the dubbed version will be announced soon, according to the report.
Miyazaki recently announced that he is retiring after
The Wind Rises
(see "
Miyazaki Is Retiring
"), the end of a career that has been one of the most important in the history of animation.