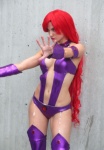 We continue the story of New York Comic Con with pictures from Friday, the first full day. To start from the beginning, go to Part 1 or for the first batch of the Friday photos, go to Part 2.

The show is now as big as San Diego Comic Con (see "NYCC as Big as San Diego Comic Con").

NOTE: Any image can be clicked for a larger view.

Starfire, striking a pose.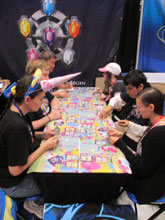 Playing some
My Little Pony: The Collectible Card Game,
due out next month (see "
'My Little Pony CCG' Pre-Release Set
").
Nova and Rocket Raccoon, contemplating the
Guardians of the Galaxy
movie.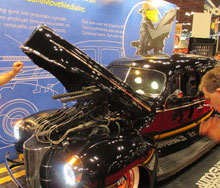 Comic artist Ken Lashley and car enthusiast Ian MacIntosh displayed the car from The Silver Spectrum at the show, here displaying the twin machine guns under the hood.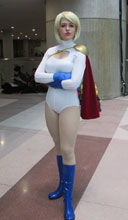 Power Girl, with attitude!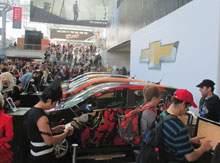 Chevrolet was a major sponsor of the show, and had several cars in comic wraps in the concourse of the Javits.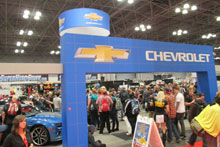 But the Chevy booth at the center of the exhibit floor seemed to have little to do with the rest of the con.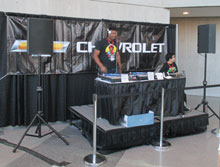 The Chevy concourse display had a DJ, which seemed to be the most popular non-geek booth talent at the show.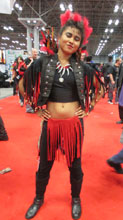 Rufio displaying a bit of confidence...
Click here for Part 4.