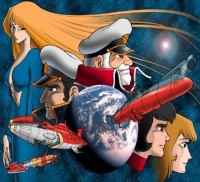 Oscar winner Christopher McQuarrie has been set by Skydance Productions to write and direct a live-action adaptation of the classic 1970s outer space anime
Star Blazers
, according to
Deadline
.
McQuarrie won an Oscar for screenwriting the organized crime who-done-it
The Usual Suspects
, and has writing and directing credits on
The Way of the Gun
and
Jack Reacher
among others. Skydance had announced McQuarrie to write back in 2011 when it acquired the series, but this is the first announcement of his directing the film as well. Skydance hopes to make a series of films based on the classic space opera franchise that preceded even
Star Wars
and
Battlestar Galactica
in science fiction space warfare.
Star Blazers
has floundered in development hell since the 1990s, at least in America. It has passed through the hands of Walt Disney Studios, and more recently an incarnation with Benderspink Productions with Josh C. Kline attached back in 2006 (see "
Live Action 'Star Blazers'
").
The
Deadline
story also named McQuarrie, along with Josh C. Kline, David Ellison and Dana Goldberg as producers, with Shouji Nizhizaki and Paul Schwake as executive producers, so maybe this version will actually make it to the launchpad for blast off.
Star Blazers
was the Americanized name for the original Japanese anime series
Space Battleship Yamato
. A number of anime series and OVAs followed the original series in Japan, and a Japanese live-action feature film version of
Space Battleship Yamato
was released at the end of 2010. More recently the property was rebooted in Japan in 2012 as the 26-episode anime series
Space Battleship Yamato 2199
.